!-sist endret 2014-04-01>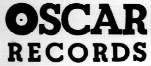 for true collectors only:
OR 1 - OR 6
were lacquer acetate records made in 1-4 copies for Askeröi himself and close friends. It's hardly unlikely that you'll ever come across any copy at all. And if you do, they're cut with a 'normal' (78 rpm) stylus but spin at 45 rpm, so you'll probably not be able to play them, anyway...
OR 7
was the legendary 7 inch 6 track vinyl EP that became a highly valued collector's item way back in the late seventies due to only 100 (!) copies being pressed. It contained I Love You Beacause by NEW UNISECT, 'Hallo, Mary Lou' by LARS MATHIS, a 1:30 edit of 'Sweet Little Sixteen' by THE TOMFOOLS, 'Til konfirmanten' by ROMEO & JULIE, 'Hun er bare 15 &aringr by 2T and 'Jim' recited by JAN S PLATOU with 'Abide with me' playing in the background.
Except from the complete The Tomfools track, and a brief appaerance by the New Unisect track on OR 25, only one track from this EP has resurfaced. It was the 2T track wich made a guest appearance on the 'The fest of The Tomfools (and friends)' cassette, OR 28.
OR 8
Another lacquer acetate record. See OR 1 - OR 6 for comments...
OR 9
one of the originally laquer acetates. Authentic recordings of the noice at school back in 1969/70.
Recorded by Jan S. Platou.
OR 10 - OR 19
more lacquer acetate records. See OR 1 - OR 6 for comments...
OR 20
The first record to really be released. Or shall we say: mass produced. It was a 7 inch vinyl single by LARS GRANDE containing the classical pieces 'Elvira Madigan' and 'Air' played on an electronic organ.
Recorded in true mono in the basement of the organ /record shop Askeröi and Lars Grande both worked at the time. This is still available.
OR 21
In the early 80's Oscar Records had the distribution rights to several labels. This number was used for a promotional cassette made in approximately 25 copies and sent out to selected record shops in 1981. It contained 60 seconds of 21 tracks from The Oscar catalogue, including 'Air' by Lars Grande (OS 4501) and 'Shout Out Loud' by Tiger Joe (from an OS 4503 that never materialized). At the same time a single by The Beatles, "Sweet Little Sixteen" / "Shimmy Shake" taken from the Hamburg 'live' sessions were planned. A deal with Lingasong was set up and cover and label originals - along with the original Oscar Records' logo cliche - was sent to Lingasong. They sacked their manager and the material never re-appeared and this OS-4502 never saw the light of day...
OR 22
Another cassette only promo product. This time a collection of Askeröi demo recordings given to Kurt & Kara hoping for them to record an Askeröi composition. They didn't. Only a couple of copies were made.
OR 23
Both the Beatles and the Tiger Joe singles were cancelled. The number OS-4502 then finally appeared on the The Tomfools' debut single 'Stå på - rock on!' / 'She's Going Away'. The first (white label) pressing contained a mix without backing vocals on the B-side that never appeared anywhere else. It soon became a collector's item. The second (blue label) pressing has the familiar version found everywhere and is still available.
OR 24
This number was used for The Tomfools' follow-up single 'Cactus Flower' / 'Limping Jam'.
OR 25












In summer 1987 there were plans for reuniting the band NEW UNISECT (featuring The Tomfools from '71 to it's decline in '75/76). Due to renewed interest a cassette, 'New Unisect 1968 - 1975' was made and distributed to some old band members and some of the original die-hard fans.
It was not a 'best of' compilation, rather a collection of amateur recordings featuring as many of the line-ups as possible.
The reunion never happened and the cassette was immediately deleted. Only a handful of copies exists.

OR 26
The third single by The Tomfools: 'Sandslottet' / 'Men Sekresjefen sa'. The B-side was written and recorded in one day and immediately replacing an early version of 'Shout Out Loud' without anybody remembering that at least one side of each single was supposed to be in english.
By the way: an english version of the B-side called 'My Secrechief said' was recorded but has (so far) not been heard by the world at large...

OR 27
Were an unbelievable release. Maybe the world's first single with TWO real B-sides. The norwegian languaged B-side, DA TITTER SOLEN FREM, was a seven minute true live in the studio disaster!!!
The guys, which consisted of The Tomfools and some friends, had been working on the backing all day and finally had it 'in the box'. But the vocalist was not well enough prepared and made a terrible performance. The 'band' was named ELECTRIC FRIENDS and the record was taken directly from the uncut and unaltered studio tape.
The single received top critics in all norwegian music papers, and mind you: There's no need for knowledge of the norwegian language to see (hear!) the greatness of this recording!!!
The english languaged B-side, SHOUT OUT LOUD, was just the originally planned B-side of the unreleased TIGER JOE single. Heavily reworked to the extend that the TIGER JOE vocal was removed...

OR 28
Local demand for a cassette release (not everyone had a record player back then either) of The Tomfools' singles forced this release. Beside all the single tracks, a couple of new (left-over?) tracks, HUN ER BARE 15 ÅR by 2T from OR 7 and finally the promotional minute from OR 21 (which now is all that is preserved) of TIGER JOE's own and original version of SHOUT OUT LOUD.

OR 29
THE TOMFOOLS are back on the field again. To make up for the all-norwegian last single, both tracks this time were in english, DEEPCLEANING LOTION / MAN WITH A HOLE. The A-side became THE TOMFOOLS' only top 10 hit (so far).
The B-side was not about women liberation. Just a spiritual hole...

OR 30
Another THE TOMFOOLS single. This time HIS version of SHOUT OUT LOUD c/w one of the 'new' tracks from the cassette OR 28, SNART HAR DU INGEN TOMFOOL Å TRÅKKE PÅ NO' MER. This was just a translation of Buck Owens' YOU AIN'T GONNA HAVE OL' BUCK TO KICK AROUND NO MORE set to a traditional blues melody. (i. e. no copyright problems...). A new, additional, lead guitar was added, by the way..

OR 31
A couple of friends got married. And giving a rare and brief 'live' performance were THE TOMFOOLS and an occasional band. During the night of the party several attendants asked for a cassette copy when they found out it had been recorded (on a portable deck, only). To keep the promise a low profile MC release was made. Though not promoted it reached the papers and the radio waves. And is still available.

OR 32
This became an EP. Originally it was planned as 'a single from the cassette'. The only not previously released (on vinyl) song from the wedding cassette, TRY b/w another stunning (in the true sence) live recording. A rocking treatment of the mountain hiker's 'international anthem', FJELLTRALL performed at a party for the norwegian mountain hikers' organisation! Complete with pixie flute. The recording, again on just a portable deck, was very lo-fi, but what a spirit...
But this single got hold up so long due to a burglary that it ended up as B-side to the next single, MAY IT BE (THE XMAS SONG) b/w the previously and elsewhere unreleased Beatles composition SUSY PARKER - complete with 19 seconds of The Tomfools jamming ANNIE MARE.
The EP was entitled DOUBLE SINGLE and released in time for christmas.
The two singles were released seperately on CD.

OR 33
The CD age reached THE TOMFOOLS, too. When it was time for a true compilation album it was only released on CD. It contained all previously released studio tracks. Along with two 'new' recordings: The Tomfools & Band's DILEMMA recorded for the CD and a leftover from earlier days: a cover version of HIPPY HIPPY SHAKE. In 1:45, of course...

OR 34
Clinging to the vinyl single as 'the real thing' long time friend ANETTE SJÅSÆT recordings of her own songs, NO'N ORD and LOVE IS NOW was released. The latter even featured drums by THE TOMFOOLS.

OR 35
Time for a 'real thing' by THE TOMFOOLS himself again: FAIRY-TALE PRINCESS backed by another strange 'live' recording on the B-side: The Beatles' YELLOW SUBMARINE performed as a simple sing-a-long by norwegian Beatles fan club members on the hired coach on their way back home from the 1992 Ringo Starr concert in Gothenburg, Sweden. Complete with bus engine 'backing'...
'This is the way to do this song!' said Norway's most famous rock critic Willy B...

OR 36
On one day's notice THE TOMFOOLS switched to accoustic instruments for the 'live' debut. In a direct radio transmission! Two of the three songs performed in the programme, DEEPCLEANING LOTION and CACTUS FLOWER was given away to fan club members on a cassette single. It was released on the Tomfools-klubben label!

OR 37
Another gift from the fan club: a one-sided single on red vinyl containing a 'live' performance of JOHNNY B GOODE and a 1974 demo version of the Tomfools' original PLAY IT COOL. All records were numbered and each member received the one with their membership number. A three year membership fee can fix you both these collectors items along with TK 1994 - a video made for the 1976 single B-side SHE'S GOING AWAY. The video did not receive an OR number.

OR 38
A MC re-release of OR 33. With an approximately 15 seconds shorter new mix of SNART HAR DU INGEN TOMFOOL Å TRÅKKE PÅ NO' MER on it due to the cassettes being too short for the entire CD. The new mix is much better, though...

OR 39
Eventually even The Tomfools had to admit that CDs were the future. The so far latest single was therefor released in this format only. The main track was THE HYMN OF LOVE. Secondly came the A-side of the previous single, FAIRY-TALE PRINCESS, followed by the planned B-side of that single (but in last minute replaced by Yellow Submarine), VERDENS UNDERGANG. And finally a cover version of Kurt & Kara's SLUTT PÅ JOBB.

OR 40
In connection with the re-release of all the old vinyl singles, a special promo CD single, SHOUT OUT LOUD / THE HYMN OF LOVE was made in a handful of copies.

OR 41
The CD-single re-release of OR 20.

OR 42
The CD-single re-release of OR 23.

OR 43
The CD-single re-release of OR 24.

OR 44
The CD-single re-release of OR 26.

OR 45
The CD-single re-release of OR 27.

OR 46
The CD-single re-release of OR 29.

OR 47
The CD-single re-release of OR 30.

OR 48
The CD-maxi single re-release of OR 31.

OR 49
The CD-single release of the B-side of OR 32.

OR 50
The CD-single release of the A-side of OR 32.

OR 51
The CD-single re-release of OR 34.

OR 52
The CD-single re-release of OR 35.

OR 53
Reserved for the possibel CD-single re-release of OR 36. It never occured and the number was used for a limited edition CD-R for the artist: TIGER JOE: Shout Out Loud / Don't Pass Me By

OR 54
Reserved for the possibel CD-single re-release of OR 37. It never occured and the number was used for a limited edition CD-R for the artist: the willy b review: Rock FM Jingle /If I Stay Too Long/When The Night Falls

OR 55
The CD maxi single re-'release' of OR 9, one of the originally laquer acetates. Authentic recordings of the noice at school back in autumn 1969. Featuring The Tomfools, but not recommended to others than the original pupils (and teachers?) - and extreme collectors...

OR 56
A brand new release by "The Singing Skater" Paul Fitzgerald from Irland. Most of it was recorded in The Tomfools' studio and superwised by him. Kind of "Pavarotti light" it actually received nice critics and nice sales, especially in Holland...

OR 57
The final release of the norwegian band the willy b review summing up the career with previously unreleased demos, outtakes and 'live' recordings.

OR 58
The follow-up by "the skating tenor". Except for containing four originals and a special cover version of The Tomfools' "The Hymn of Love" with steel drums, it's the same consept as the first one.

OR 59
For the record fair at Rockefeller at christmas a limited edition one-track CD-R single by THE TOMFOOLS (THE UNROLLING STONES) performing Jagger-Richards' I'm Free

OR 60
A promo CD-single by PAUL FITZGERALD: The Hymn Of Love / Polar Star


And this is as far as we've got. This page will of course be updated as soon as any new (old?) product appears. Stay 'tuned' for more information..





in table form:


| | | | | | |
| --- | --- | --- | --- | --- | --- |
| prod no. | cat no. | type | artist | title | comments |
| OR 1- 6 | - | LA | various | various | unreleased laquer records |
| OR 7 | OR 7 | VEP | various | | deleted collector's item |
| OR 8-19 | - | LA | various | various | unreleased laquer records |
| OR 20 | OS 4501 | VS | Lars Grande | Elvira Madigan / Air | still in stock |
| OR 21-22 | - | MC | various | various | deleted demos |
| OR 23 | OS 4502 | VS | The Tomfools | Stå på - rock on! / She's Going Away (mix 1) | white label - deleted |
| OR 23 | OS 4502 | VS | The Tomfools | Stå På - rock on! / She's Going Away (mix 2) | still in stock |
| OR 24 | OS 4503 | VS | The Tomfools | Cactus Flower / Limping Jam | still in stock |
| OR 25 | OR 25 | MC | New Unisect | 1968-1975 | withdrawn |
| OR 26 | OS 4504 | VS | The Tomfools | Sandslottet / Men Sekresjefen sa | still in stock |
| OR 27 | OS 4505 | VS | Electic Friends | Da titter solen frem / Shout Out Loud | still in stock |
| OR 28 | OK 401 | MC | The Tomfools | THE FEST OF THE TOMFOOLS (AND FRIENDS) | still in stock |
| OR 29 | OS 4506 | VS | The Tomfools | Deepcleaning Lotion / Man With a Hole | still in stock |
| OR 30 | OS 4507 | VS | The Tomfools | Shout Out Loud / Snart har du ingen Tomfool... | still in stock |
| OR 31 | OK 4002 | MC | The Tomfools | WELCOME TO THE AMAZING WORLD OF... | still in stock |
| OR 32 | OS 4508/9 | VEP | The Tomfools | DOUBLE SINGLE | still in stock |
| OR 33 | OL 5001 | CD | The Tomfools | ANNA KRONISMER | still in stock |
| OR 34 | OS 4510 | VS | Anette Sjåsæt | No'n ord / Love Is Now | still in stock |
| OR 35 | OS 4511 | VS | The Tomfools | Fairy-tale Princess / Yellow Submarine | still in stock |
| OR 36 | TK 1992 | MCS | The Tomfools | Deepcleaning Lotion (acc live) / Cactus Flower (acc live) | club release only |
| OR 37 | TK 1993 | VS1 | The Tomfools | Johnny B Goode / Play It Cool | club release only |
| OR 38 | OK 5001 | MC | The Tomfools | ANNA KRONISMER | still in stock |
| OR 39 | OS 5512 | CDM | The Tomfools | THE HYMN OF LOVE | still in stock |
| OR 40 | OR 40 | CDS | The Tomfools | Shout Out Loud / The Hymn of Love | demo only |
| OR 41 | OC 4501 | CDS | Lars Grande | Elvira Madigan / Air | still in stock |
| OR 42 | OC 4502 | CDS | The Tomfools | Stå På - rock on! / She's Going Away (mix 2) | in stock |
| OR 43 | OC 4503 | CDS | The Tomfools | Cactus Flower / Limping Jam | in stock |
| OR 44 | OC 4504 | CDS | The Tomfools | Sandslottet / Men Sekresjefen sa | in stock |
| OR 45 | OC 4505 | CDS | Electic Friends | Da titter solen frem / Shout Out Loud | in stock |
| OR 46 | OC 4506 | CDS | The Tomfools | Deepcleaning Lotion / Man With a Hole | in stock |
| OR 47 | OC 4507 | CDS | The Tomfools | Shout Out Loud / Snart har du ingen Tomfool... | in stock |
| OR 48 | OC 4002 | CDM | The Tomfools | WELCOME TO THE AMAZING WORLD OF... | in stock |
| OR 49 | OC 4508 | CDS | The Tomfools | Try (live) / Fjelltrall | coming |
| OR 50 | OC 4509 | CDS | The Tomfools | May It Be (The Xmas Song) / Susy Parker & Annie Mare | in stock |
| OR 51 | OC 4510 | CDS | Anette Sjåsæt | No'n ord / Love Is Now | in stock |
| OR 52 | OC 4511 | CDS | The Tomfools | Fairy-tale Princess / Yellow Submarine | in stock |
| OR 53 | OR 53 | CDS | Tiger Joe | Shout Out Loud / Don't Pass Me By | Ltd edition |
| OR 54 | FRP S 01 | CDS | the willy b review | Rock FM Jingle/If I Stay Too Long/When The Night Falls | Ltd edition |
| OR 55 | OC 1970 | CDM | 1Ra | En dag i 1Ra | in stock |
| OR 56 | OL 5002 | CD | Paul Fitzgerald | The Skating Tenor | in stock |
| OR 57 | OL 5003 | CD | the willy b review | That's It! | in stock |
| OR 58 | OL 500(4) | CD | Paul Fitzgerald | Polar Star | in stock |
| OR 59 | OR 59 | CD | The Tomfools | I'm Free | Ltd edition |
| OR 60 | OR 60 | CD | Paul Fitzgerald | The Hymn Of Love / Polar Star | Promo only |
Back to menu