- - - o o o - - -
1. february 2017: New 7" The Tomfools vinyl single
Now the single The Hymn Of Love / Slutt på jobb is available... (Catalogue no. OS-4512).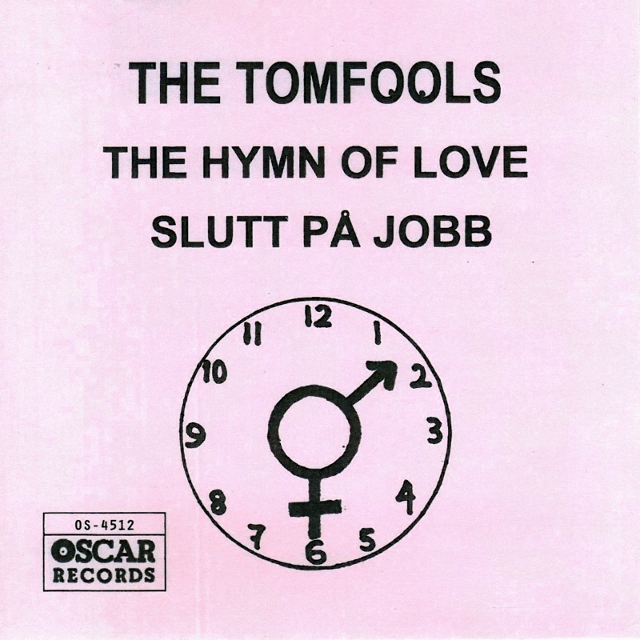 - - - o o o - - -
August 2009: Aunt Mary
A concert at Elm Street was filmed on august 14th.

- - - o o o - - -
August 2008: Peter Berry & The Shake Set
A concert at Pigalle was filmed on august 5th.

- - - o o o - - -
December 2007: Brand new snail-mail address
Oscar Records
Postbox 88 Mortensrud
N-1215 Oslo, Norway
- - - o o o - - -
November 2007: A second willy b guitar review concert filmed
Another concert at Elm Street was filmed on november 3rd.

- - - o o o - - -
June 2007:willy b guitar review concert filmed
A special reunion concert by cult bank willy b guitar review was filmed 'live' at Elm Street, Oslo on june 2nd. A DVD-release is concidered.
- - - o o o - - -
May 2007: Brand new homepage...
- - - o o o - - -
January 2004: New CD release
by Paul Fitzgerald - The Skating Tenor Paul originally studied singing in his youth with the Anglo-Irish Tenor, Denis Cleary. However, his musical activities were later put on ice while he persued sporting career, achiving notable success as a speed skater.
After recovering from a near fatal accident while training in the Netherlands during the mid nineties, Paul resumed vocal studies with the English Tenor, Dennis Quinton and subsequently performed solo in Europe and North America and with the Norwegiean singer and composer Askeröi.
This album marks a significant change in content, being the first where all the songs featured are written and composed by Paul, whose compositions cover a wide spectrum of musical styles, ranging from popular to operatic.
This record is released in the UK by the british registared company Oscar Records Askeroi International. It's the first release by this daughter company of Norway's oldest - and smallest - indipendant record company: Oscar Records.
It's of course imported to Norway...

- - - o o o - - -
Paul Fitzgerald - The Skating Tenor: POLAR STAR
A follow-up to his first, successfull CD. More original songs this time. Recorded with british musicians in London. Featuring a real coverversion of The Tomfools' THE HYMN OF LOVE. Which he does very well...Catalogue no. OL-500, release date 15. october 2000.

- - - o o o - - -
the willy b review: THAT'S IT! - New CD
With this release on Rockefeller saturday 24. april 1999 the Oscar Records label celebrate it's 25. anniversary. It's a collection of demos, alternative and live recordings by this popular, but split up, group. 49 minutes of real rock'n'roll, a family tree and guest appearance by Rune Halland is what you can await.
Tracks: (1) Radio Aftenposten jingle (2) I'm gonna be a wheel someday (3) Sexy legs and her daddy's cash (4) Motor Messiahs (5) Diddy wah diddy (6) When the night falls (7) If I stay too long (8) Silverspoon delivery (9) The boy that radiates that charm (10) The land of the living dead (11) No 9 dream (12) Bad mouthin' (13) Silverspoon delivery (live) (14) Evil devil of the female kind (15) Thank you that's all (16) Rock FM jingle (17) Vera Cruise & The Psycodaisies: Rock Shop (18) Bitten & Willy: Memphis, Tennessee...
Catalogue no: OL 5003 (OR 57)

- - - o o o - - -
Tiger Joe / The Tomfools recording found...
Back in 1981 Tiger Joe recorded a song given to him by The Tomfools, Shout Out Loud. The session was never completed and the basic recording was used for release by Electric Friends some seven years later. Except for one minute used on a demo cassette the original recording was believed to be lost. Now a good copy has been found and negotiations for a release is going on. For B-"side" The Tomfools has provided a 1975 recording of Tiger Joe And The Tomfools singing Ringo Starr's Don't Pass Me By accompanied by an accoustic guitar. Maybe this will be the long awaited OS 4513?

- - - o o o - - -
Release date: 1999-03-03...
Finally the London branch of Oscar Records released the first record by the irish speed skater, Paul Fitzgerald. It's being exported to Holland and Norway. (The above release date is for Norway).
Most of the album was recorded in The Tomfools' studio 1-4 september 1998 and were supervised by Askeröi, but the songs marked * was recorded or rerecorded in London later in the autumn and supervisedd by David Quinton and Wilton Smith. Track 18 features The Tomfools & Band... All Tracks are mastered in London and produced by Paul Fitzgerald.
Paul Fitzgerald - The Skating Tenor
-1 The Impossible Dream (Leigh-Darion) 2:39
-2 So Deep Is The Night (Chopin-Miller) 3:28
-3 No Regrets (Dumont-Taylor) 2:28
-4 Unchained Melody (Zaret-North) 4:42
-5 Love Changes Everything (Webber-Black/Hart) 3:44
-6 My Way (Francois/Revaux-Anka) 4:01
-7 It's Now Or Never (Capurro-Di Capua-Schroeder/Gold) 3:19
-8 Oh! My Papa (Burkhard-Parsons/Turner) 3:01
-9 Danny Boy (Trad-Weatherley) 3:22
10 Annies Song (Denver) 2:29 *
11 You Are The One (Quinton) 3:44 *
12 Think On Me (Scott) 3:24 *
13 I Believe (Drake-Graham-Shirl-Stillman) 2:01
14 Bless This House (Brahe-Taylor) 2:33
15 The Lost Chord (Sullivan-Proctor) 4:11 *
16 The Holy City (Adams-Weatherley 5:25 *
17 The Last Train (Fitzgerald) 5:05 *
18 May It Be (Askeröi) 1:45
19 Auld Lang Syne (Trad) 3:54
20 Nessun Dorma (Puccini-Adami/Simoni) 3:25 *
Catalogue number is OL-5002.

- - - o o o - - -
Release date: 1998-09-05...
The Oslo record fair at Rockefeller saw the re-release on CD-single of Lars Grande's classical masterpieces Elvira Madigan and Air. The quality is extremely better than of the old vinyl single. Catalogue number is OC 4501.

- - - o o o - - -
Release date: 1998-05-18...
The Tomfools doesn't often perform 'live'. One of the few occasions were at some friends' wedding back in '89. The concert was taped, and in a week moment The Tomfools promised the newly wedded couple a copy on a cassette as a memory of the day. When other guests heard about the cassette they wanted one as well. Soon it was spread in such quantities that Oscar Records could as well make it a regular release. Today the six tracks were re-released on a very MAXI CD single. Catalogue no. OC 4002...

- - - o o o - - -
Release date: 1998-01-06...
Back in 1969/70 class mate Jan S Platou one day brought his tape recorder to school. From time to time he pushed the record button and came home with some 23 minutes of noice and the like.
Platou and Askeröi cut two lacquer acetate records of the stuff and stuck an Oscar Records label on it and numbered it OR 9.
This autumn the old class was reunited celebrating their 25th anniversary. Askeröi brought his copy with him for a laugh - and heavy demand for a CD "re-release" rose among the old class mate.
Platou still had the original tapes, and now a CD maxi single, OCM 9, has seen the light of day.
Of course the record will be sold to others than the partisipants as well, but you're hereby warned: It's lo-fi noicy recordings from a classroom during lessons and nothing to listen to. But if you are a die-hard The Tomfools or Oscar Records collector...
Release date 1997-12-06...
Oscar Records finally released the good, old christmas single which was deleted (and made into an EP) back in 1990. The cover is looking like this:


-----------------------------------------------------------------
The Tomfools
May It Be (The Xmas Song)
Susy Parker(*) & Annie Mare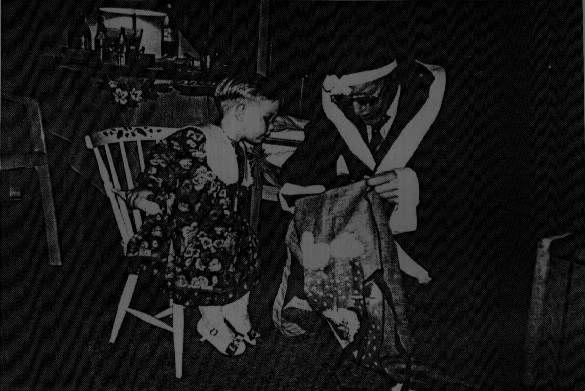 (*)composed by The Beatles but otherwise unrelased
-----------------------------------------------------------------

Back to menu