The Tomfools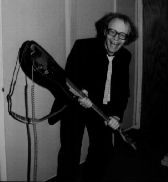 Norway's
most
(in)famous
garage
band...

is NOT a band! Despite the name it is just one person.
Occasionally he get's 'a little help from his friends'
for an instrument, a backing vocal or to put together
a 'live' backing band, but usually he's making the
entire recording performance alone.

Not many has noticed, as neither he nor his (own)
one-man-record-company have ever focused on the fact.
But, nontheless it's true.

He's been around since the mid seventies, released
more than a dozen self-financed records (all with loss)
and gained quite a reputition as a cult hero in Norway.
As in Denmark, Ireland, France, Indonesia and Japan.

How did it all begin? Well, there was a local band called
New Unisect. It was formed in autumn 1968 and gained
quite many followers. He joined them, playing the bass,
in winter 1971. Soon after he started making his own
demo recordings for the band to learn his songs from.

As the years rolled along, one band member after the
other became serious, responsible grown-ups and quit
the band. And one day he was the only member left.
Exit New Unisect - enter THE TOMFOOLS.

The legendary 1976 EP contained not only his recording
debut, but New Unisect's only released track as well,
a very punk-ish version of Jim Reeves' huge hit
I Love You Because. It was his arrangement -
and note: recorded in 1975 nobody had heard of punk
yet!

But the EP is remembered for his contribution, a 1:30
edit of Chuck Berry's Sweet Little Sixteen.
This first release had no drums on it - as there was
no kit available at the time of recording. (The drums
on later (complete) releases are added by sound-on-sound
technique in 1978...)

The EP, only made in 100(!) copies, soon became an
expensive collector's item. All later releases are
still in stock. And these days all they'll all be
re-released on CD-singles.

The rest of the story will be written in the years
to come...

Hopefully, you'll come back to these pages
to be kept informed.